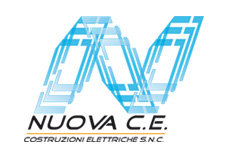 HOMEPAGE
CORPORATE PROFILE
THE STAFF
OUR LOCATION
OUR MISSION
NUOVA C.E. Costruzioni Elettriche Snc is a company founded in March 2011 from the acquisition of the company
C.E. Costruzioni Elettriche Snc, which since 1979 has been successfully operating in the field of the creation of plants for the automation sector.
The collaboration is aimed at companies that operate in the design and construction of automatic machines in the packaging, food, pharmaceutical, and many others, with the help of qualified and professionally appropriate personnel to meet the needs of the customer.
Each project is followed by one of our specialized technicians, with years of experience in the field of industrial automation, able to control the time and costs of implementation and select a component suitable for the type of machine. The construction of the electrical panels by means of a very accurate wiring can be in processing account or in total or partial supply of components.
The systems on board the machine can be realized by our specialized personnel directly at the Customer's premises.
We are also able to offer after-sales assistance both in Italy and abroad.
We would be pleased if you would like to contact us to learn more about our company and to seek a possible
future collaboration.
Our highly qualified staff is able to perform indipendent interventions with the greatest competence, preparation and experience. We also have a technical designer who can handle any type of problem and best meet the customer's needs.
The main company objective is the satisfaction of our customers and the immediate establishment of a clear, professionel and sincere partnership. We are a reliable reference for companies in the sector.
"NUOVA C.E. Costruzioni Elettriche Snc" is located in MODENA (Torrazzi area), Che Guevara Street No. 5/A.
For detailed information, please use coordinates by Google Maps™ (44.656728, 10.959808)
Nuova C.E. Costruzioni Elettriche S.n.c., Che Guevara Street No. 5/A, 41122 Modena (MO)
Tel. +39 059 252359 Fax. +39 059 253744
Fiscal code and VAT number: 03385360361 - Web: www.nuovace.com - Contacts