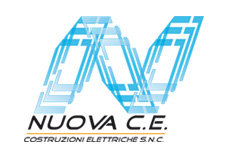 HOMEPAGE
DESIGNING
PRODUCTION
In the NUOVA C.E. Costruzioni Elettriche Snc there is technical department to guarantee the internal management of all the working phases: from the project activity to the production of the technical documentation related to the production of the electrical panels and the preparation of the machine edges.
The accumulated experience and developed skills allow the technical office to offer its customers electrical panel design activities on specific request or on an internal project.
NUOVA C.E. Costruzioni Elettriche Snc operates in the industrial and civil fields for the design, construction and
marketing of low voltage switchboards for the command and control of NC machine tools, process plants and
packaging lines.
Today the company is structured in such a way as to be able to manage internally many of the most important operations of the production cycle, and is able to respond positively to requests for quality material with increasingly shorter delivery times, both for minimum lots and for repetitive quantity production.
All production is carried out in compliance with the reference regulations of the various markets.
Before being delivered, the products are previously checked, tested and retested with the use of specially built
"test stations", which simulate normal conditions of use and subject the product to various types of stress situations. We also are specialized in the design and implementation of groups and activities "on board the machine".
Our company offers a qualified and competent after-sales service, thanks to specialized technicians for telephone
advice able to carry out any type of intervention at the customer's premises, both in Italy and abroad.
THE COMPANY
SECURITY
CIVIL INSTALLATIONS
CONTACTS

Nuova C.E. Costruzioni Elettriche S.n.c., Che Guevara Street No. 5/A, 41122 Modena (MO)
Tel. +39 059 252359 Fax. +39 059 253744
Fiscal code and VAT number: 03385360361 - Web: www.nuovace.com - Contacts